yesterday, saturday, february 7, 2009 (fun day because the month - 2 - plus the day - 7 - equal the year - 09! LOVE that!) was a great day.

in the morning, becca, lizzy and i went to the alpine stake enrichment. it was incredible. the stake relief society presidency planned in in conjunction with the general relief society meeting. they used Elder Uchtodorf's talk about creating happiness. sister murphy came and spoke about revelation and listening to the Spirit. then, there were creation stations where different sisters shared ways they created happiness. these stations were in the culture hall - along with a brunch table, AND an assembly line station to create 160 pot pies for the homeless shelter. wow. it was amazing. it was everything an enrichment was to be.

then, my friend kyle came over. we ran to the store to get ingredients for taco salads. we chatted for awhile, made dinner, and watched anna and the king. if you haven't seen it in awhile (don't try to find the movie at the american fork blockbuster - they don't carry it. you'll need to go to hollywood video), you may watch to remind yourself.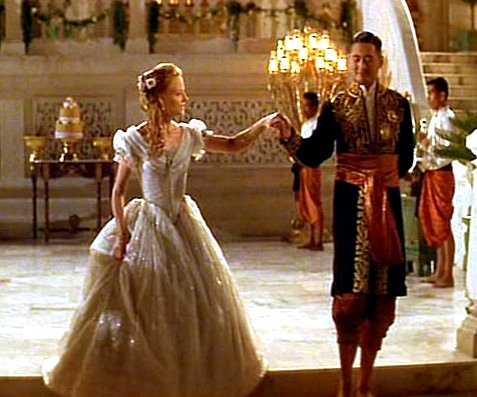 i recognize that i am kind of weird because i love to learn lessons from movies. it was wonderful to watch the power and influence of a school teacher upon the lives of her students. i loved to see how the king helped her change her thinking and put her in her place. they were open and honest with one another. they were safe to tell each other hard things. cool. i also love to find when the characters in the movie fall in love. anna and the king fall in love lots of little moments. :)
of course i reminisced about alpine junior miss . . . it took us a while to figure out what my talent would be for that pagent. finally, we - yes, it was a family effort - decided i would sing "whenever i feel afraid" from the king and i. i had a hoop skirt an everything!!!
oh such memories! the entire point of the song was that whenever you feel afraid, you're suppose to whisle a happy tune. minor detail is that i can't whistle. so my ingenious mom handed me a kazoo. it was perfect! :)
okay, enough of memory lane. moral of the story, yesterday was a great day!
ps i worked on planning my institute class schedule. have i mentioned how excited i am that i get to teach again?? the class has 5 - 25 people that attend. we'll see if we can get a frew more. i went to an institute activity on friday and recruited 5 more people - we'll see if they really come. ;-) if you find yourself with a free wednesday evening - come to class!! 7:00 pm - 8:30 pm at 824 west 800 south orem. in the south building. hooray!!