every need a day to just drive off into the sunset??
this week was a doozy - a few too many headaches - and i needed some drive-and-ponder-and-just-get-away time. thankfully, Logan is a great destination for these moments. usually park city can take the edge off, but this was a thinking journey, not a shopping one (roland and denise are very excited that i actually have different driving journeys!!).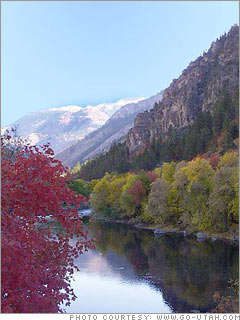 you may wonder why logan of all places? the answer is soo easy . . . mary and jon scoresby! mary and i were super duper friends in high school. i remember one day, walking out of her room and thinking, "i hope someday i'll have opinions like mary does . . " ha ha ha! who knew that i would get pretty darn close!!? mary came down from logan (they are stationed there while jon is finishing his PhD in instructional design) for a reception a few months ago. although we have seen each other periodically through the years, it was that last time that it felt like our hearts were sealed. she understood me in ways very, very few people have. i craved more moments with her. thankfully the doozy of a week came when we had planned for me to come crash at their house.
i left alpine at 10 AM and actually drove the speed limit the entire way, getting into mary's drive way at 12:01 PM. we went to
and had the yummiest sandwiches and treats i think i have every had. we weren't fully prepared for the display of treats and so of course, we bought one of each to sample!! as good as the treats were, the sandwiches were out-of-this-world!! i'm not a big sandwich lover but goodness gracious, i will crave these for the rest of my life!
even better than the food, was just moments with mary. i literally felt my shoulders relax as i drove out of sardine canyon. and then, to just relax the walls of my heart with mary and jon, wow. i think i just get going with life and the day-to-day moments and forget how vital deep friendships are to the health of my soul.
adding to the health of my soul, i stopped at "aunt" kathy's house. i had a food saver my mom had bought for kathy and was planning on it being a quick in and out. hahahaha two and a half hours later, i finally left. :) kathy is another safe place for my heart. she is better than any therapist i have dumped my thoughts to. she makes me laugh and cry and puts my thinkings back where they belong. she alone is an escape from reality in that she is soo real and doesn't put up with the "crap" of life.
i left beautiful cache valley and hollered to a friend in plain city. he has one of the only working farms in plain city (just north east of ogden). he loves working on his yard and home so i stopped by to "oooh and aahhh" and remind him how amazing he is. we rode his four-wheelers around all his property and wow. i kind of rode the entire time with a smile plastered to my face. we passed the cows and the ducks and a goose, tonz of dandelions, and watched as the sun fell behind the mountains. wow.
needlesstosay, it was a good day. i was rather hungry as i left plain city at 9:00 pm and found a cafe rio in ogden. perfect ending to a perfect day.