it has been a snowed-in weekend. which i love. maybe i am just to an acceptance stage, or maybe it's because it's winter and a part of me loves to hibernate, but i am pretty lazy right now in life. yesterday, i caught up on a number of shows and watched a movie. i decided to make cookies at 9:00 pm. bad choice. they were awful. i tried to 1/2 the recipe and it's tricky to divide 3 eggs in half. boo!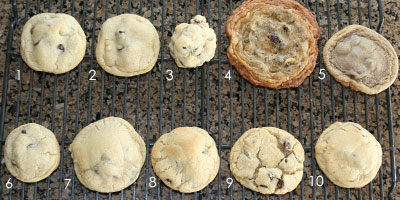 mine looked like number 5 here when typically they look like 1 or 8. blast. too much egg and not enough flour.
the snow has been beautiful. pretty great to live in an apartment and not have to worry about shoveling the snow. there was so much wind that it came through the screens and when i opened the windows, there was lots of snow on my window pane.
i decided it was a good weekend to try to write some thoughts. i had lunch with a colleague this past week. he received his MBA at HBS then went on to lead a company which got bought for lots of money. so he came back to cambridge and went to the Divinity school. we have some good talks and we were talking about beliefs the other day.
i want to record and try to put into words some of my beliefs about womanhood.
i believe that i am created as a mother. i belief that having and raising children is my divine purpose. i believe that there is no greater work in the eternities than creating a space for learning and growth and developing. and i feel that there is no role greater for me than to be a wife and mother.
a number of years ago, while i was teaching, i was researching further dream jobs. i was looking into organizational behavior. i really wanted to figure out how to help people be their best selves so that they could give more of their best work. i was thinking about different organizations and their products. and realized the that only product that i care about is people. i care about producing great people - not great airplanes, or post-it notes, or software, etc. it was a big moment to realize that there was no greater place i could put energy than in developing greater people. and that is the business of education - the creating of people.
mrs. schroeder was one of the greatest keys to my teacher training. she told me one day that the goal is to create capable, and wonderful citizens who contribute to the world. it changed my life. i wasn't there to teach the math lesson and get high scores on the state testing. i was there to create powerful people.
maybe because i saw so many "products" of parenting in my students, i have become even more passionate about the power of parenting and motherhood. there is no greater arena to create people than in a home. THAT is the beauty and power of mother: to create the capable, wonderful citizens of the world. AND in the gospel, to create dedicated disciples of Jesus Christ.
eternity is real to me. it is often easy for me to realize that this earth life isn't the end. i love the vision i remember while attending the Temple. i am a mother. my eternal role is to create life and to nurture that life to become all it can, and chooses to become. i am to create vision for my children. and until i have children of my own, i get to practice with the people in my life.
and i'll be honest. sometimes that is hard. people scare me. for some reasons i do understand, and many that i don't, i am very fearful to create relationships. in fact, i am going to see a therapist this week to try to start working through this. i get anxious to be with girls one-on-one. i need a task to do and i am much better. but the expectation that i need to be something for that person creates a lot of fear and nervousness that i often retreat from friendships. it is a big deal when i swallow that fear and interact. but i know it is an essential skill and trait and i need to practice this in order to be the mother i want to be. for i truly believe, that each thing i learn enriches all my mothering skills.
i don't have a problem with men holding a responsibility to govern the affairs of the church. i have a voice and thoughts and insights that i want to be heard. but that doesn't mean i need to be in charge of something to have an influence. in fact, i can often have much more influence without being in charge. i don't believe that programs will change people's hearts and i don't believe that the only way to be a leader is to have a position.
i believe that i have equal access to the powers of heaven. i don't believe that the power of the priesthood is only accessible through righteous priesthood holders. i believe that they are just that - humble holders of a responsibility. just as i am a humble holder of the responsibility to nurture and create an environment to create wonderful people. i can't do that to the best of my ability without someone at my side - someone who is my equal and who can understand my heart and gives strength when i have no more. and vice versa - a man can not be the ultimate of his role as a priesthood holder without a woman at his side to invite a softness and perspective unique to women.
maybe this is too much to share here. in this arena.
my thoughts are edited or refined. they are simply my heart right now.
i deeply want to understand other's hearts. i want to understand people's thoughts that disagree with me. i often have an internal conflict that the gospel of
Jesus Christ
should and can be taught to all people, for all people to accept and embrace. so there must be a way to teach it so that all people want to embrace it. and i recognize that the Savior - as the perfect teacher and perfect leader - was hated. He didn't convince everyone that the doctrines were correct. He was bold and didn't apologize for the Truth of the eternities. He was so bold that He was brutally persecuted and killed. as were His Apostles. there is a part of me that recognizes that this searching for truth and teaching it isn't something that will always end well in this life. and the other part of me recognizes that the Savior was constantly wanting to understand and be with people who didn't agree with Him. no wonder he needed to flee to the mountains to find time to just BE with His Father and reset.